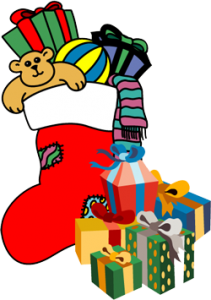 Visit any of these Empty Stocking Fund Drop Locations to donate your new, unwrapped toy, game, craft item, and more.
Most sites begin collecting early October.
HARFORD COUNTY PUBLIC LIBRARIES
HCPL Administration and Support Office
1221 A Brass Mill Road, Belcamp, Md 21017
In addition to the HCPL Administration Offices in Belcamp, eleven other
branches will be collecting toys to support the Empty Stocking Fund.
They are listed below:
Aberdeen Branch
21 Franklin Street
Abingdon Branch
2510 Tollgate Road
Bel Air Branch
100 E. Pennsylvania Ave.
Darlington Branch
1134 Main Street
Edgewood Branch
629 Edgewood Road
Fallston Branch
1461 Fallston Road
Havre de Grace Branch
120 N. Union Ave.
Jarrettsville Branch
3722 Norrisville Road
Joppa Branch
655 Towne Center Drive
Norrisville Branch
5310 Norrisville Road
Whiteford Branch
2407 Whiteford Road
---
ABERDEEN, MD
Cynthia Moats, CPA
YEAR ROUND DROP OFF SITE
687 Paradise Road
Rent-A-Center
Aberdeen Shopping Center
Rent-A-Center
Beards Hill Shopping Center
---
ABINGDON, MD
Harco Credit Union
3422 Emmorton Road
---
APG, MD
Freedom Federal Credit Union
Hoadley and Blackhawk Rds
Edgewood Area
BEL AIR, MD.
Anytime Fitness Center
Festival Shopping Center
5 Bel Air South Parkway
Applebee's Restaurant
1225 Churchville Rd, Rt 22
Arena Club
2304Churchville Road
ATI Physical therapy
2021 A Emmorton Rd, Suite 110
BB&T Bank
402 Baltimore Pike
Bel Air Veterinary Hospital
1501 S Tollgate Rd
Creswell Veterinary Clinic
2605 Creswell Road
Elite Sports Performanc Group
1220 E. Churchville Rd
2nd Floor
First National Bank, Hickory Branch
2128 Fountain Green Rd
Freedom Federal Credit Union
1304 Churchville Rd
Freedom Federal Credit Union
2019 Emmorton Road
Harco Credit Union
30 N. Hickory Avenue
John Carroll School
703 E. Churchville Road
Jordan Thomas Salon and Spa
16 B Bel Air South Parkway
LaJoli Hair Shop
205 Fulford Avenue
Kelly's Hair Design
604 Moores Mill Road
NVS Hair Salon
839 S. Main Street
Rapid Refill Ink
15 Churchville Road
Subway
144 N. Bond Street
---
BELCAMP, MD
Long and Foster, Aberdeen Office
101 Bata Blvd, Suite A, at Route 40
FCCAU
Riverside Business Park
1221-C Brass Mill Road
---
CHURCHVILLE, MD.
The Arena Club
2304 Churchville Road
BB&T Bank
2900 Churchville Road
DELTA, PA.
M&T Bank, Delta Branch
6960 Delta Road
---
EDGEWOOD, MD.
BB&T Bank
1014 Gateway Drive
FALLSTON, MD.
BB&T Bank
1911 Bel Air Road
BB&T Bank
3891 Jarrettsville Road
BB&T Bank
2401 Baldwin Mill Road
Cook Volkswagen LLC
2110 Belair Road
The Hair Network
1702 Harford Road
---
FOREST HILL, MD.
Celebree Learning Center
9 Newport Drive
Children's Manor
2003 Klein's Plaza Drive
Enotria Restaurant and Grill
2 Newport Drive
First National Bank
Forest Hill Branch
Klein's Shopping Center
Freedom Federal Credit Union
Forest Lakes Branch
1990 Rock Spring Road
Great Clips
1521 Rock Spring Road, Ste C
PayDay Payroll Service
2209 Commerce Road, Ste # 1
Subway
2 Myers Drive, Ste 1
---
HAVRE DE GRACE, MD
BB&T Bank
203 Market Street
Freedom Federal Credit Union
1830 C Pulaski Hwy
Harford County Economic Development
2021 Pulaski Highway
---
JARRETTSVILLE, MD
Dollar General Store, Madonna
4064 Norrisville Road
---
JOPPA, MD
Dee's Fluid Power
1809 Fashion Court, Ste 110
Holy Spirit Church
540 Joppa Farm Road
---
STREET, MD
BB&T Bank,br>
3500 Conowingo Road
Howard Bank
3535 Conowingo Rd
Rt 1 and Rt 136